---
02 ECHOES | DESIGN & TECHNOLOGY WEBSITE
THESIS SHOW 2022

PROJECT BY

Branding, Visual Identity Design: Ardak Mukanova
UI/UX: Nanwei Cai, Billy Ho
Interactive Sketches:
Olivier Brueckner, Yuan Zhang
Development: Kunal Jain
Faculty: Richard The, Xin Xin
Website:
ECHOES
PARSONS DESIGN & TECHNOLOGY THESIS SHOW 2022

ECHOES website is made for the Parsons Design & Technology program to showcase students' thesis projects and celebrate the final end of the year events including pop-up exhibition show, publication, symposium, screening & performance events.

ECHOES is a collection of stories, devices, anecdotes, universes, playful interactions, practical applications, manifestos, poems- nearly every medium under the sun. It was created by artists, designers, and dreamers, standing as evidence of resilience and innovation. It is a celebration of the efforts of Design & Technology's class of 2022, quietly reverberating through our collective imagination. And we invite you to take a look and become captivated with us.

ECHOES can be defined as a close parallel or repetition of an idea, feeling, style, or event. Through this publication, we showcase a variety of works, from both the past and present, showing how we, as artists and designers, continue to iterate and grow, exploring and inventing new answers to questions that we have all asked over and over.

This show could not happen without the commitment and hard work of individual students and the faculty's generous help.


Software: Figma, Illustrator, Photoshop, InDesign, After Effects, Three.js, WordPress.



Branding & Visual Design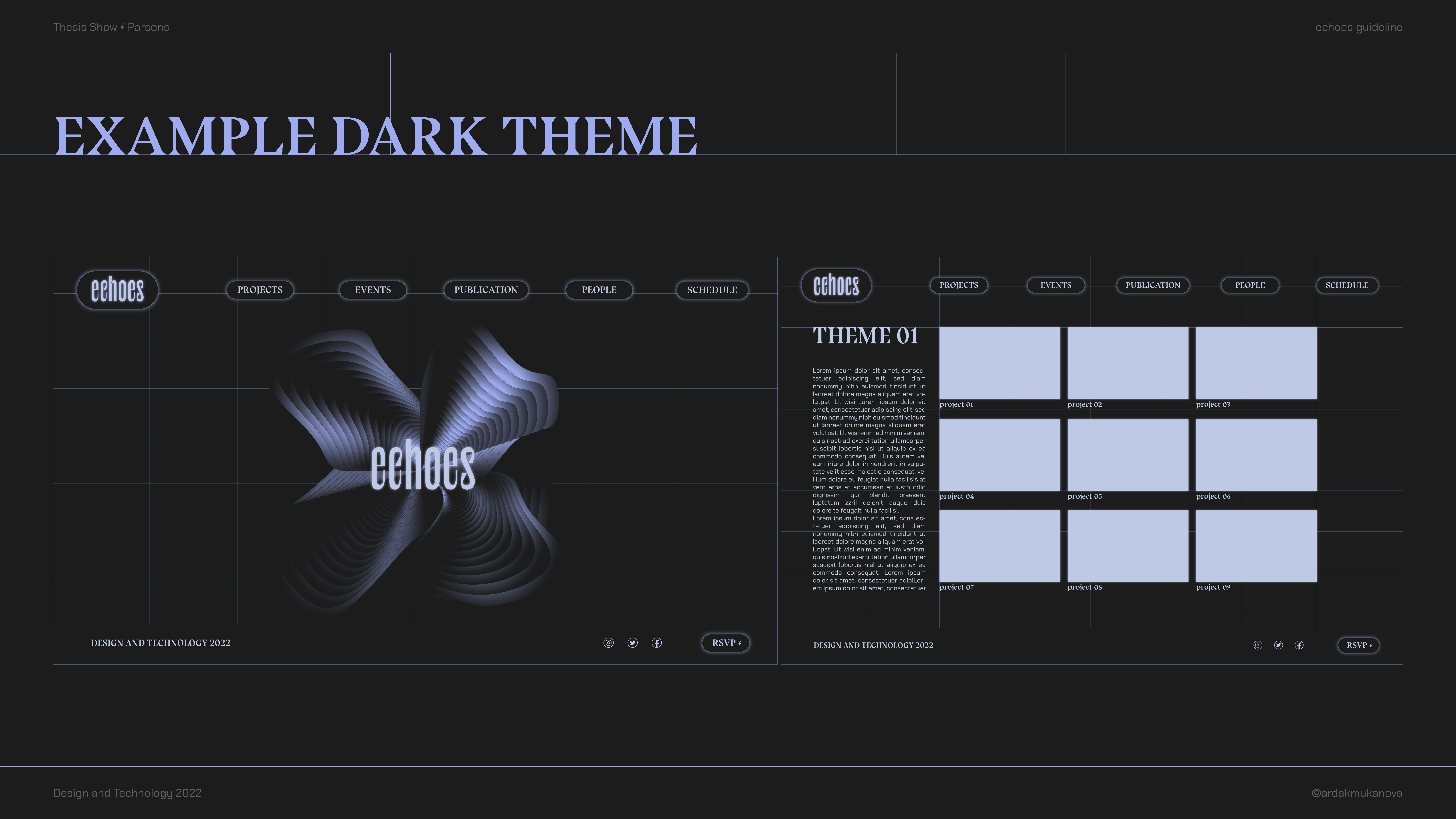 REFERENCES

Velvetyne velvetyne.fr
Echoes logo — Le Murmur by Jérémy Landes
Headings — Bluu Next by Jean-Baptiste Morizot

Google fonts fonts.google.com
Main text — Chakra Petch by Cadson Demak
CONCEPT

Echoes — blended spaces between intervals reflecting and transmitting through each other.

Dark/light theme with minimal elements — accents on students' projects.

We decided to make two color modes for the website: dark and light. Both versions have a neutral color palette that can stay minimal on the background without drawing too much attention and complementing students' projects. Visitors can toggle the mode whenever they want.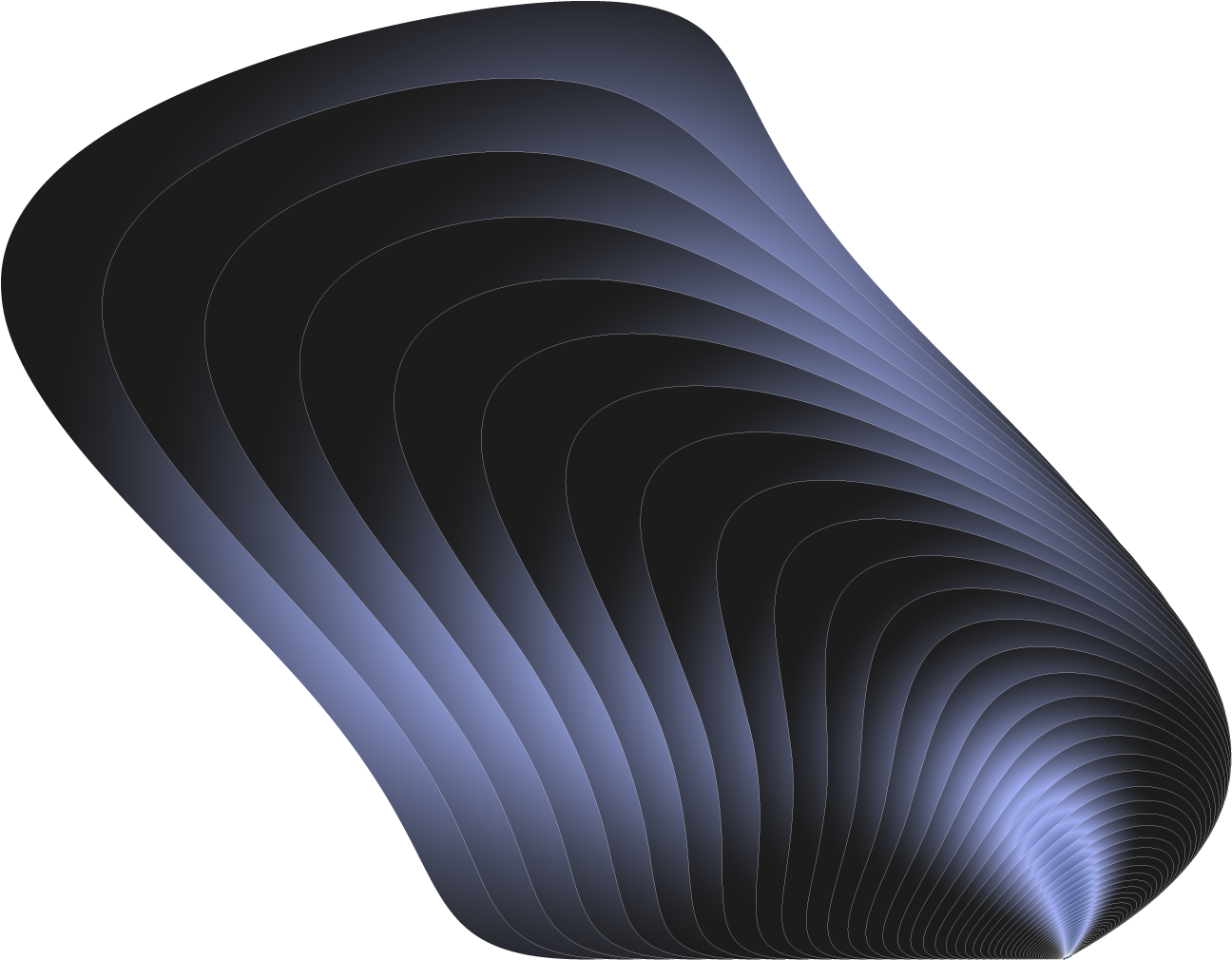 03: logotype AE animation

PROCESS

We set the list of potential names for the show 2022. After receiving the votes from students (with the result name Echoes), we started to work on the visual style. We made three initial styles and tried to blend and refine some ideas together.






Website architecture | Figma structure


PROTOTYPING

The process consisted of making the responsive grid not only for the containers but also as a visual part; of visible grids. Billy and Nanwei built the UI/UX.

The interactive three.js sketch was one of the most challenging parts, Olivier made p5js iteration sketches, while Zane made a three.js sketch that later was refined and optimized for the website by them together.

The process of debugging and refining took a significant part of the development.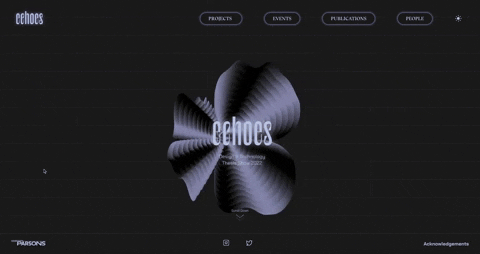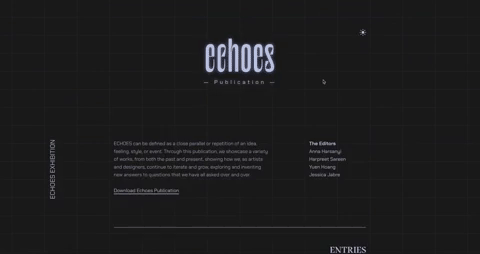 CONTENT

Students were given limited time to upload and publish their projects, documentation, and publications. After which the team checked for bugs for additional rounds.
PROMOTION

The promotion team made the posters, social media visuals, and RSVP links.


THESIS COMMITTEES
This show could not happen without the commitment and hard work of individual students and the faculty's generous help.

BRANDING | VISUAL IDENTITY
Lead: Ardak Mukanova
Yuqing Liang, Iz Nettere

WEBSITE
UI/UX: Nanwei Cai, Billy Ho
Interactive Sketches:
Olivier Brueckner, Yuan Zhang
Design: Ardak Mukanova
Development: Kunal Jain
Faculty: Richard The, Xin Xin

EXHIBITION
Lead: Sara Kobayashi, Wesley Chau
Cecile Roca Morla, Emilio Lari, Shivanjali Verma, Wenjun Li, Minghui Ju
Faculty: Colleen Macklin,
Clarinda Mac Low

PUBLICATION
Editors: Yuen Hoang, Jessica Jabre
Layout: Ardak Mukanova
Faculty: Ayodamola Okunseide, Harpreet Sareen, Anna Harsanyi

PROMOTION
Lead: Sarita Sun
Aldora Wang, Yujing Shi, Jiayue Gou
Faculty: Katherine Moriwaki

SYMPOSIUM
Organizers: Yuen Hoang,
Ken Chen, Livia Foldes
Layout: Ardak Mukanova, Yuen Hoang
Faculty: John Sharp

PERFORMANCE
Lead: Whitt Sellers
Bowen Li, Xintong Wang,
Lu Jia, Ziyan Cai
Faculty: Kyle Li